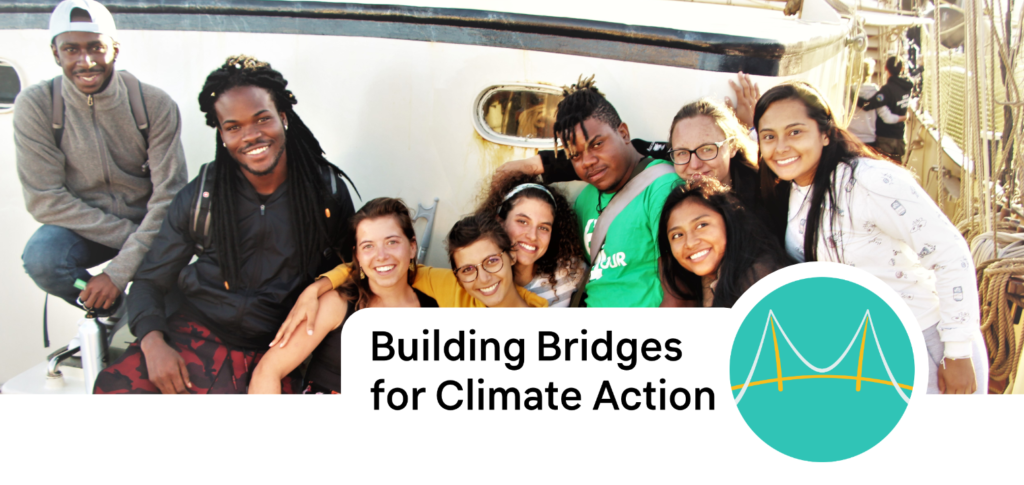 Raising Latin American and Carribean Youth Voices
Build­ing Bridges for Cli­mate Action (BB4CA) aims to pro­vide a start­ing point for a par­a­digm shift to strength­en the cli­mate move­ment across the globe by putting under­rep­re­sent­ed groups in the spot­light. 25 unique young cli­mate experts from Latin Amer­i­ca and Caribbean (LAC) Region will come togeth­er for a 5‑week long vir­tu­al pro­gramme to share their knowl­edge, sto­ries, expe­ri­ences, exper­tise and real­i­ties of the unfold­ing cli­mate cri­sis. They will raise their con­cerns regard­ing the cur­rent impacts of cli­mate change affect­ing front-line com­mu­ni­ties and the expect­ed impacts on young and future gen­er­a­tions. They will explain their demands and dis­cuss and exchange approach­es to cli­mate action in polit­i­cal, eco­nom­ic, sci­en­tif­ic and civ­il places of pow­er in Germany.
BB4CA is joint­ly orga­nized by young vol­un­teers from Latin Amer­i­ca, the Car­ribean and Europe. The project is finan­cial­ly sup­port­ed by the Fed­er­al Min­istry for the Envi­ron­ment, Nature Con­ser­va­tion and Nuclear Safe­ty and it is legal­ly car­ried by the Ger­man Youth NGO Kli­madel­e­ga­tion e.V.
Any ques­tion?
bb4ca-info@klimadelegation.de
Press inquiries here:
bb4ca-press@klimadelegation.de
What is the project about?
The cli­mate cri­sis is an urgent issue that needs to be addressed glob­al­ly. Youth around the world per­sis­tent­ly lead and par­tic­i­pate in a mul­ti­tude of cli­mate ini­tia­tives, advo­ca­cy and research activ­i­ties and activism at all lev­els. In their work they face var­i­ous chal­lenges which high­ly depend on their sur­round­ings and cir­cum­stances, such as their ori­gin or eth­nic­i­ty, their socio-eco­nom­ic back­ground and oth­er factors.
Yet they are the ones in the front­line fac­ing the cli­mate impacts. They pos­sess the great­est expe­ri­ence and knowl­edge on what is hap­pen­ing and what needs to be done. There is an urgent need to devel­op a true con­scious­ness for the vast­ly dif­fer­ing real­i­ties of young peo­ple on oppo­site sides of the Atlantic. The fact that the UN Cli­mate Con­fer­ence has been tak­ing place on the Euro­pean Con­ti­nent three times in a row makes an equal rep­re­sen­ta­tion of key actors from the most vul­ner­a­ble areas to the cli­mate cri­sis even more dif­fi­cult.

What is the aim?
The 25 young cli­mate experts from the LAC region will con­duct a 7‑week long online pro­gramme dur­ing which the group will work togeth­er to pre­pare for their vir­tu­al cli­mate jour­ney and fur­ther devel­op their knowl­edge and skills and pre­pare their project out­puts. Fol­low­ing they will be under­tak­ing a 5‑week long mul­ti­fac­eted vir­tu­al programme.
In this, BB4CA aims to fur­ther build and strength­en bridges between Latin Amer­i­ca, the Caribbean Region and Europe for accel­er­at­ed aware­ness and empow­er­ment and to cre­ate a momen­tum for ambi­tious, youth cen­tered glob­al cli­mate action. It aims to ampli­fy the voic­es, espe­cial­ly of those youth liv­ing in the glob­al south, young peo­ple of col­or and indige­nous youth who are until now still under­rep­re­sent­ed in the main­stream dis­course and media reports about the cli­mate cri­sis and inter­na­tion­al cli­mate pol­i­cy. BB4CA is deter­mined to con­tribute to a par­a­digm shift in mak­ing the exper­tise, per­spec­tives and expe­ri­ences of those vis­i­ble who have been dis­re­gard­ed in the cli­mate move­ment in the Glob­al North for too long. The project aims to send out a sign of uni­ty, empow­er­ment and glob­al part­ner­ship to reach the Paris Goals.
Last but not least, the project empha­sizes the impor­tance of unit­ing actions with­in the Latin Amer­i­can and Caribbean region. We believe com­ing togeth­er glob­al­ly and local­ly is nec­es­sary for suc­cess­ful cli­mate action.
---
Legal Enti­ty:
Kli­madel­e­ga­tion e.V.