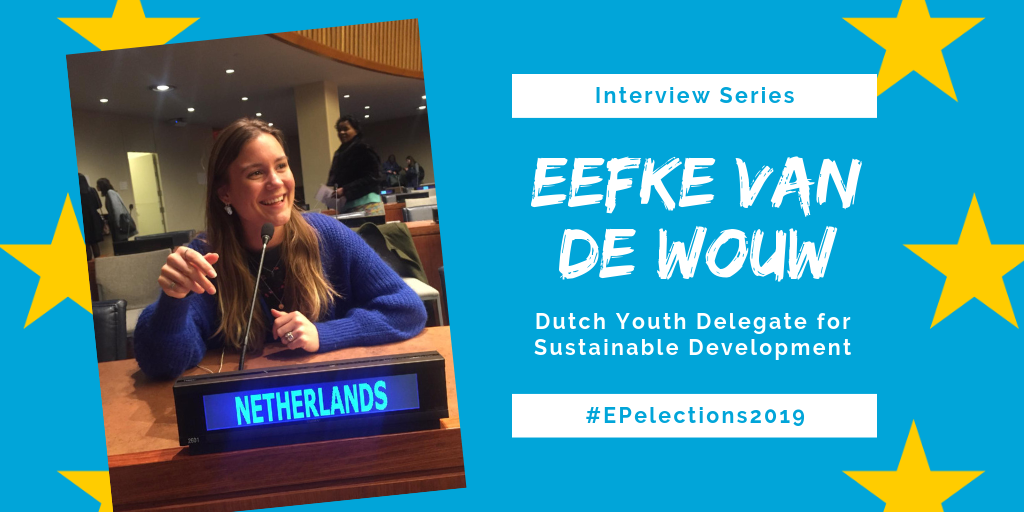 Eefke van de Wouw is 23 years old and rep­re­sents all the young peo­ple from the Nether­lands as a Youth Rep­re­sen­ta­tive on Sus­tain­able Devel­op­ment to the UN. She builds bridges between gen­er­a­tions but also between pol­i­tics and the voice of the youth.
Where does your inter­est in pol­i­cy, pol­i­tics and espe­cial­ly the elec­tions to the Euro­pean Par­lia­ment come from? What is your main moti­va­tion to engage yourself?
I real­ize that to have as much impact as pos­si­ble, we need to engage on dif­fer­ent lev­els with­in soci­ety. Activism for me is impor­tant to feel empow­ered and push the agen­da, but pol­i­cy mak­ing is impor­tant to get coun­tries to under­take action (prefer­ably with legal bind­ings). Being active on dif­fer­ent lev­els also means being able to build a bridge between those lev­els and con­nect dif­fer­ent parties.
What are your con­crete sug­ges­tions regard­ing cli­mate change pol­i­cy at EU lev­el towards can­di­dates to the Euro­pean Par­lia­ment? What would a can­di­date need to promise you to make you vote for her/his party?
A can­di­date would need to promise me that they have a high focus on edu­cat­ing not only the younger gen­er­a­tion but the peo­ple in gen­er­al about for exam­ple dis­tin­guish­ing fake and real news, which basi­cal­ly means crit­i­cal think­ing skills. I think crit­i­cal think­ing skills and edu­ca­tion are key in the cli­mate change debate, in under­stand­ing the sit­u­a­tion that we are in and in get­ting rid of the giant fos­sil fuel lob­by that spends a lot of mon­ey con­vinc­ing peo­ple cli­mate change is not hap­pen­ing at all. Fur­ther­more a can­di­date needs to show he or she under­stands that 'vot­ing green' is not about one par­ty in par­tic­u­lar, but about a col­lab­o­ra­tion between the par­ties that have green ambi­tion and active­ly engages in this collaboration.
What are the "hot" top­ics regard­ing cli­mate change in your coun­try? How do they poten­tial­ly affect the upcom­ing Elections?
One hot top­ic in the Nether­lands is def­i­nite­ly car­bon tax for the trav­el indus­try or the flight tax, and the dis­cus­sion about growth or degrowth of avi­a­tion in the Nether­lands. As this is also a big top­ic on Euro­pean lev­el this debate is real­ly inter­est­ing to fol­low. For me, as a youth rep­re­sen­ta­tive the most impor­tant hot top­ic is the cli­mate strikes. Young peo­ple in the Nether­lands are push­ing the polit­i­cal agen­da to raise their ambi­tions and have a high­er sense of urgency. They are chang­ing the polit­i­cal debate here in the Nether­lands, but the school strike move­ment has an effect on a Euro­pean and glob­al lev­el as well.
What should young peo­ple keep in mind while mak­ing their deci­sion in the elec­tion to the Euro­pean Par­lia­ment?
Keep in mind that your votes are your input for the world you wish to see. We can vote for the world of tomor­row in many ways: our every­day actions, where we buy and if we buy, how we trav­el. This is an oppor­tu­ni­ty to vote on a dif­fer­ent lev­el and your voice matters.
In your opin­ion, is giv­ing a vote enough?
When is it ever enough? I think we are a gen­er­a­tion that, in gen­er­al, can't seem to get to the fin­ish line because for us it is nev­er enough and that leads to a mas­sive wave of burn outs and depres­sion. In the Nether­lands it is a big issue so what I always tell the young peo­ple that I talk to is this: Do what you can, use your tal­ent for the world you wish to see and don't for­get to take care of your­self in the process. In this case: If vot­ing is all you can do right now do that, if you can do more, do more!
Thank you for the interview!