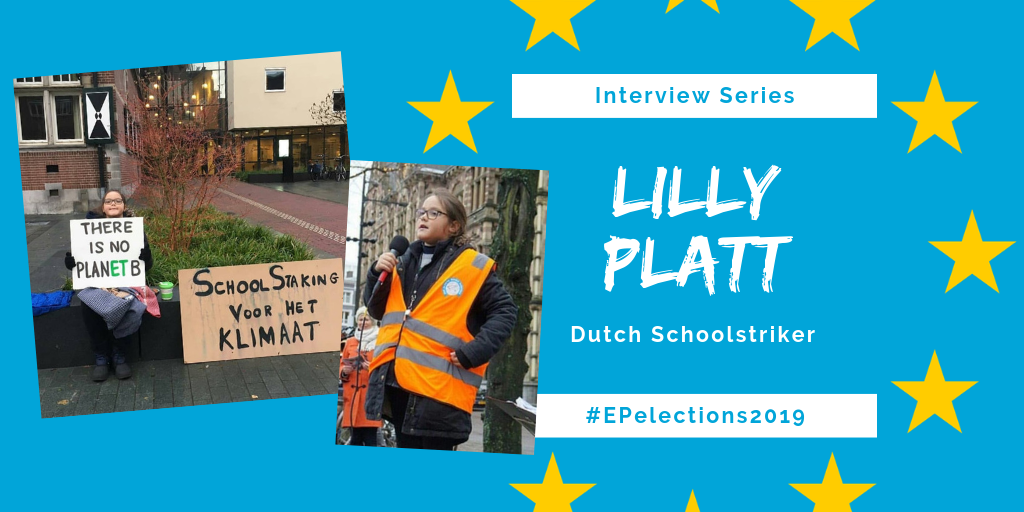 Lil­ly (11) is an inter­na­tion­al envi­ron­men­tal cham­pi­on from The Nether­lands. She is a Youth Ambas­sador for Plas­tic Pol­lu­tion Coali­tion and Water Char­i­ty HOW Glob­al. She found­ed Lillys Plas­tic Pick­up where she spreads aware­ness about plas­tic pol­lu­tion in the world and solu­tions. She is an advo­cate for change, a cli­mate activist and the longest-stand­ing school­strik­er in the Netherlands.
Where does your inter­est in pol­i­cy, pol­i­tics and espe­cial­ly the elec­tions to the Euro­pean Par­lia­ment come from? What is your main moti­va­tion to engage yourself?
My inter­est in pol­i­cy start­ed when my ini­tia­tive Lillys Plas­tic Pick­up real­ly took off and I was spread­ing aware­ness of the plas­tic pol­lu­tion issues. I was told I was in the list of top 100 influ­encers tack­ling plas­tic pol­lu­tion at no.28. I fol­lowed MEPs and the EU Twit­ter han­dles to keep up to date with what is going on. The EU have set a pol­i­cy ban­ning sin­gle use plas­tics by 2025 I won­der why not now. My activism now also includes my school­strik­ing for the cli­mate. I was invit­ed to the cli­mate debate in March in the EU Par­lia­ment. Of 751 seats only 28 seats were filled for the debate- it was very dis­ap­point­ing. What was also dis­ap­point­ing was the bot­tles and bot­tle of sin­gle use plas­tic water. My main moti­va­tion is help­ing to pro­tect the envi­ron­ments and the ani­mals that live in it. Plas­tic pol­lu­tion is not just a prob­lem for one coun­try it's for every coun­try in Europe and in the world. There is no away with plas­tic it is not biodegrad­able. It gives ani­mals the illu­sion its food and once they eat it they feel full and nev­er eat again and slow­ly starve them­selves. The EU needs to step up to this.
What are your con­crete sug­ges­tions regard­ing cli­mate change pol­i­cy at EU lev­el towards can­di­dates to the Euro­pean Par­lia­ment? What would a can­di­date need to promise you to make you vote for her/his par­ty?
My school­strik­ing has been about get­ting the atten­tion from politi­cians to align with the Paris agree­ment and reduce CO2 emis­sions and keep to the 1.5 C tar­get for glob­al warming.
Com­pa­nies pro­duc­ing emis­sion need to be taxed over the whole of Europe not just pol­i­cy from coun­try to coun­try. There is no incen­tive to reduce emis­sions as there is no prop­er tax­ing sys­tem in place.

Roof top space needs to be used for solar pan­els instead of pre­cious land surface.

Peo­ple who rent should be able to make where they live more sustainable.

Stop the ship­ping of wood pel­lets for bio­mass fac­to­ries in Europe from the oth­er side of the ocean. Forests are one of the big answers to cli­mate change they must be protected.

VAT

tax on air­craft fuel.
To get me to vote for a can­di­date I need to know they are more act­ing and less talk­ing. They need to enforce the Paris agree­ment. My wish for cli­mate change to be taught from the youngest at school so that they are brought up with aware­ness of the issues and can be enabled to do some­thing as they grow up.

What are the "hot" top­ics regard­ing cli­mate change in your coun­try? How do they poten­tial­ly affect the upcom­ing Elections?
Here in the Nether­lands the main top­ics are Co2 reduc­tion, elec­tric cars, phas­ing out coal plants and air trav­el with the poten­tial expan­sion of schiphol and the build­ing and open­ing of Lelystad airport.
There is a lot of air trav­el sham­ing between the par­ties. Show­ing that train trav­el is far bet­ter for short­er dis­tances under 750 km. The pric­ing is what is key to this policy.
The shut­ting of coal plants has led to a lot of anger because of fear of los­ing jobs and mon­ey. The chang­ing from a job in a coal plant to anoth­er needs to be done care­ful­ly and then peo­ple will happy.
What should young peo­ple keep in mind while mak­ing their deci­sion in the elec­tion to the Euro­pean Par­lia­ment? What could they do if they do not yet have the right to vote themselves?
Young peo­ple need to learn the val­ues of the EU and know that the last b74 years there have been no wars. I am lucky my grand­fa­ther is giv­ing me his vote in these elec­tions I will vote by proxy. I hope that every cli­mate strik­er can be sup­port­ed like this and they speak to their grand­par­ents about the vote. This EU elec­tion is the cli­mate elec­tion. We have voiced our opin­ions with our strike now we can voice them with our vote.

In your opin­ion, is giv­ing a vote enough?
A vote is once every 4 years. The politi­cians need to be more vis­i­ble to their vot­ers. It should not feel like we can have no say and that pol­i­tics is some­thing that is far away from us. Peo­ple need to feel con­nect­ed. In Hol­land I can see no sign about this elec­tion. It wor­ries me there is no ener­gy for some­thing so impor­tant. Peo­ple should feel a con­nec­tion. It is our future.
Thank you for this interview!