How do young peo­ple on the African con­ti­nent expe­ri­ence the COVID-19 pan­dem­ic and the con­se­quences of cli­mate change? In this part of our inter­view series we learn from Rav­el Djielon Moutcheu, lawyer and sci­en­tist in Cameroon and Daniel Any­ori­gya, jour­nal­ist and activist in Ghana. In this way we draw atten­tion to Cen­tral and West Africa. Over­all, it is not yet pos­si­ble to pre­dict how the pan­dem­ic will devel­op on the con­ti­nent (source), but chal­lenges are emerg­ing, e.g. due to the state of the infra­struc­ture in the health sys­tem (source 2). It is to be feared that an inter­ac­tion between the cli­mate cri­sis and the pan­dem­ic will have neg­a­tive con­se­quences for the population.
"The coro­na virus is anoth­er oppor­tu­ni­ty to (…) take a resilient stance on cli­mate change. Human­i­ty is liv­ing in a par­tic­u­lar­ly del­i­cate phase of its exis­tence." (Rav­el)
Rav­el is able to con­tin­ue work­ing dur­ing the pan­dem­ic thanks to his home office, but many in his fam­i­ly have lost their jobs

Daniel is a jour­nal­ist and activist in Ghana.
Situation before Corona
Kli­madel­e­ga­tion e.V.: What was the sit­u­a­tion in your country/region like before the Coro­na pandemic?
Rav­el: Regard­ing cli­mate change, we have to note that Cameroon, despite the mea­sures tak­en in the ener­gy tran­si­tion, the pro­mo­tion of a green econ­o­my and the strength­en­ing of refor­esta­tion cam­paigns, was not pre­pared for the direct effects of cli­mate change. This is due, among oth­er things, to city plans that do not con­tain the nec­es­sary infor­ma­tion, unof­fi­cial build­ings on high-risk land, dif­fi­cul­ties in access­ing vital resources, the lack of envi­ron­men­tal aware­ness, prob­lems with plas­tic waste man­age­ment, short­com­ings in the sewage sys­tem, etc.
The effects of cli­mate change are already evi­dent in Cameroon. These include con­stant flood­ing in the country's major cities (e.g. in Douala), land­slides (e.g. in Gouache), and poor har­vests due to cli­mat­ic con­di­tions. In addi­tion, cli­mate change has an indi­rect effect and air pol­lu­tion has a direct impact on the health of the peo­ple of Cameroon, which is par­tic­u­lar­ly wor­ry­ing in view of the Covid-19 pan­dem­ic. This also applies to my per­son­al health.
Daniel: In the realm of cli­mate change and agri­cul­ture, the Ghana­ian gov­ern­ment has intro­duced flag­ship pro­grammes over the past three years to address the country's food inse­cu­ri­ty, water short­ages and unem­ploy­ment. How­ev­er, the smug­gling of agri­cul­tur­al inputs and the diver­sion of resources remain prob­lems. In the field of cli­mate change in gen­er­al, we have seen 22 major hydro-mete­o­ro­log­i­cal events in Ghana, affect­ing 16 mil­lion peo­ple and caus­ing over 400 deaths. In addi­tion, there have been over 19 major flood events and three major drought events. Five of the cli­mate-relat­ed dis­as­ters have cost Ghana more than USD 120 mil­lion. About cli­mate change and the health sec­tor, it can be said that the Nation­al Health Insur­ance Scheme, a gov­ern­ment pro­gramme aim­ing at uni­ver­sal health insur­ance, has achieved some suc­cess by increas­ing the num­ber of ben­e­fi­cia­ries. How­ev­er, it is still indebt­ed to var­i­ous health­care providers and phar­ma­ceu­ti­cal companies.
The health sec­tor is under­staffed and Action­Aid Ghana attrib­ut­es this to Ghana's high debt ser­vice rate, which makes it impos­si­ble for the gov­ern­ment to invest in this sec­tor. In sum­ma­ry, cli­mate change affects women and chil­dren in par­tic­u­lar, and there­fore a well-equipped health sys­tem that pro­vides secu­ri­ty is needed.
Kli­madel­e­ga­tion e.V.: How was the polit­i­cal sit­u­a­tion before the pan­dem­ic?

Rav­el: Before the Covid-19 pan­dem­ic, Cameroon pre­pared to host inter­na­tion­al foot­ball tour­na­ments, such as the African Nations Cup. For this pur­pose, the infra­struc­ture has been built up. On the eco­nom­ic lev­el, the prospects were real­ly encour­ag­ing. How­ev­er, Cameroon still faces many eco­nom­ic and social chal­lenges, such as the ongo­ing ter­ror­ist threat in the north of the country.
Situation during Corona
Kli­madel­e­ga­tion e.V.: How did Coro­na affect you and your fam­i­lies?

Rav­el: Dur­ing the health cri­sis over Covid-19, the gov­ern­ment took mea­sures to com­bat the virus. They have con­tributed great­ly to strength­en­ing fam­i­ly cohe­sion and the use and devel­op­ment of the dig­i­tal tech­nol­o­gy. In addi­tion, I was able to do a pro­fes­sion­al intern­ship through home office and con­tin­ue my sci­en­tif­ic research. At the social lev­el, we can observe, among oth­er things, the reduc­tion in social inter­ac­tions. In addi­tion, sev­er­al mem­bers of my fam­i­ly have become unemployed.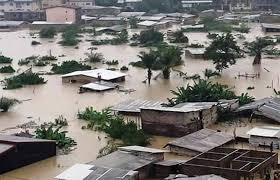 Daniel: My par­ents were not able to earn an income due to the lock­down and oth­er restric­tions. This increased the finan­cial bur­den on me and my broth­er. The cost of liv­ing rose due to an increase in the price of food. How­ev­er, the fam­i­ly was fed by oth­er fam­i­ly members.
For me per­son­al­ly, COVID-19 meant that many pro­grams and work­shops were can­celled that could have improved my skills and knowl­edge professionally.
Lessons from Corona — Messages for the Future
Kli­madel­e­ga­tion e.V.: What lessons should we learn from the Coro­na Cri­sis for fight­ing the Cli­mate Cri­sis (col­lec­tive­ly and individually) ?
Rav­el: The coro­na virus is anoth­er oppor­tu­ni­ty for human­i­ty to take a resilient stance against cli­mate change. Human­i­ty is liv­ing in a par­tic­u­lar­ly del­i­cate phase of its exis­tence. Although it should not be for­got­ten that the solu­tion lies in imple­ment­ing the Sus­tain­able Devel­op­ment Goals, there is an urgent need to con­tin­ue rais­ing pub­lic aware­ness and edu­cat­ing peo­ple about cli­mate phe­nom­e­na. In addi­tion, it is impor­tant to pro­mote eco­log­i­cal aware­ness and make appro­pri­ate rec­om­men­da­tions for action in order to work towards an eco­log­i­cal balance.
It is no longer a ques­tion of a pre­ven­tive approach, but of con­crete actions to imple­ment the goals for sus­tain­able devel­op­ment. To this end, each per­son should be able to feel the weight of both indi­vid­ual and col­lec­tive respon­si­bil­i­ty and to act in favour of this com­mon her­itage of human­i­ty in order to ensure the sus­tain­abil­i­ty of life. Pub­lic author­i­ties should be able to put the cli­mate issue at the top of the list of pri­or­i­ties for pub­lic action. Cli­mate action must be made a polit­i­cal issue, because it is tru­ly a pub­lic inter­est from which no one can depart.
Daniel: Giv­en our cur­rent sit­u­a­tion, politi­cians should not politi­cise the nation­al health insur­ance sys­tem and build up high­er spend­ing on the health sys­tem to help pro­tect the rights of Ghanaians.
---
As Youth for Cli­mate Ger­many e.V. we see that there is still a win­dow of oppor­tu­ni­ty to lim­it the inter­ac­tion between the cli­mate and Covid-19 pan­dem­ic through glob­al sol­i­dar­i­ty. If you would like to learn more about the inter­ac­tion of the crises in gen­er­al, please feel free to vis­it our blog post.
Editor's note: The inter­view answers are an edit­ed trans­la­tion from French or English.